Ilaria de Fidio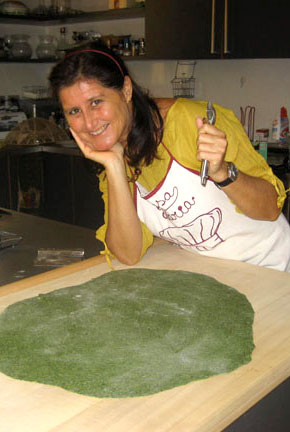 I was born in Bologna, which is considered by many the culinary capital of Italy. Growing up in Bologna, I developed a passion for food. My specialty is Bolognese home cooking but I can teach any traditional Italian dishes in a delicious and simple style.

I started to cook when I was just a girl with my amazing grandmother, learning all the secrets of local cooking and the great homemade Italian dishes.  My grandmother used to spend all day cooking for the family; I loved watching and helping her. With grandmother I learned how to make real handmade pasta using only our arms and a rolling pin, and how many different dishes you can make with just flour and eggs.

When I grew up, I studied with the biggest expert in pasta making, Alessandra Spisni, now a TV star in Italy. From her I learned all the best techinques of making perfect egg-pasta from scratch, without using any kind of machine, only my big rolling pin.

For most of the year I work in Bologna and teach how to make perfect "Tagliatelle al ragù" (because all of you know that Spaghetti Bolognaise doesn't exist!) and other traditional local and regional dishes. In winter, on the contrary, I fly to Los Angeles to prepare handmade pasta for the famous people that live there. I also teach in Australia and I made a video for Australian Channel 9 with a famous chef, Adam Swanson, about the bolognese sauce (ragù).

Since 2004, I've run my own cooking school, Bologna Gourmet, where I teach the wonders of pasta and local cooking to Italians and foreigners. Now I want to share the wealth of knowledge and experience I have accumulated and savored with everyone who has the desire and the passion to eat well.